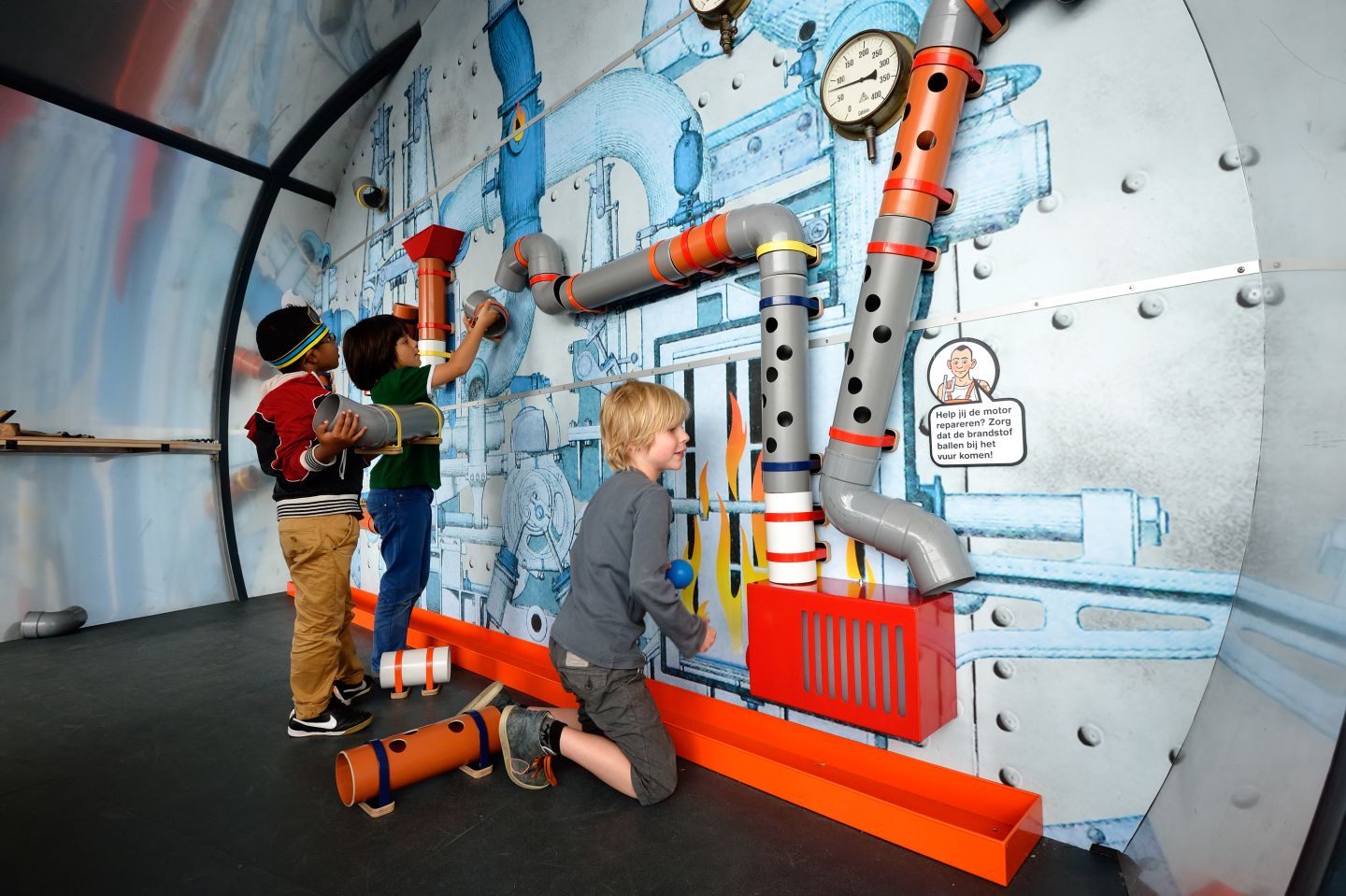 Visit with children
The Maritime Museum is particularly suitable for visiting with children. Our programme lets us amaze and encourage development and provide fun for people of any age, with their family or as a school trip. You can find practical information for a museum visit with children here.
Exhibitions suitable for children:
Cloakroom
The museum has a free (unmanned) cloakroom and there are lockers where you can leave your backpacks, umbrellas and back carriers, etc. Bags are allowed in the museum, as long as they are no larger than an A4 sheet of paper.
Food and drink
You can eat food you brought yourself at the picnic tables in the entrance lobby.
At the children's activity exhibition 'Professor Splash', there is a small catering point with fresh coffee, tea and other snacks.
You can also eat food you have brought with you in the designated area and on the outdoor patio.
Het Lage Licht museum café has special children's meals. There are high chairs, a special children's menu and colouring pictures.
The Loeve ice cream parlour (in the museum harbour) serves waffles as well as ice creams.
Visiting with babies and/or toddlers
Prams and buggies are allowed in the museum, but back carriers are not (for the safety of our collection). The latter have to be dropped off at the free cloakroom. Scooters and children's bikes are not allowed in the museum and can be parked outside at the bicycle racks.
Breastfeeding and changing
Breastfeeding is possible in the seating area in the entrance lobby or at Professor Splash. Ask our staff for advice if needed. There is a place for changing nappies in the toilets on Deck 2.
An affordable outing
The Maritime Museum is for everyone and deliberately sets competitive admission charges. We also offer various discounts so that everyone can truly enjoy the museum visit. We offer unlimited free admission to children under 4 and everyone with a Rotterdam Pass, Vriendenloterij VIP CARD or Museum card.
Museum shop
Our museum shop has an assortment of maritime souvenirs and fun presents for kids.
Lifejackets
There are lifejackets available for children (free of charge) in the museum harbour.
Accessibility
The Maritime Museum is for everyone, which is why we pay extra attention to accessibility and facilities for people with disabilities. The Professor Splash children's activity exhibition has been approved by the Netherlands Foundation for Disabled Children (NSGK). Some children need proper preparation when visiting the museum, such as children with an autism spectrum disorder.

Read more about our accessibility