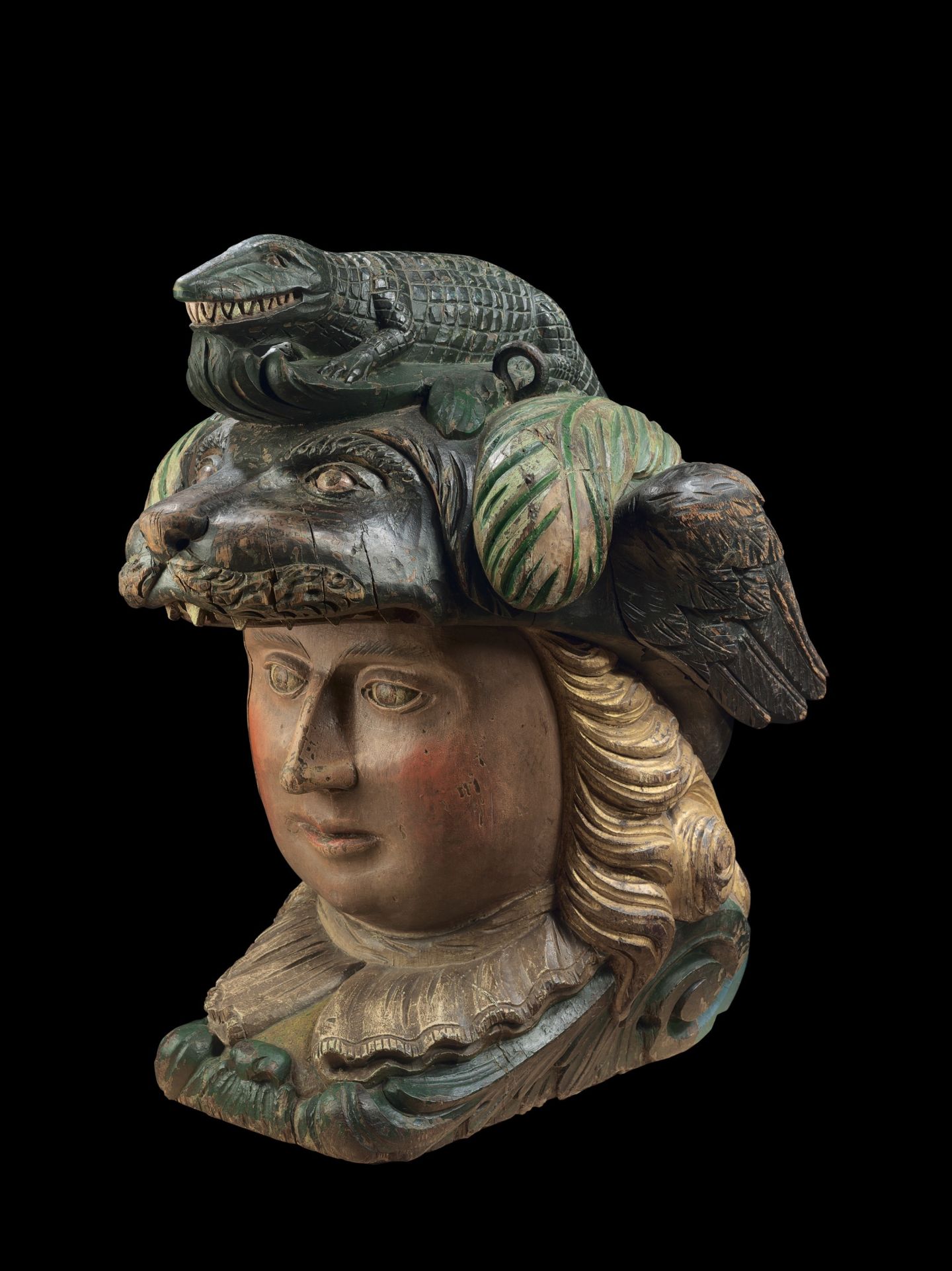 Helm stock of a coastal vessel
Only Dutch shipwrights added this kind of lavish decoration. This particular helm stock carving is one of the oldest that we have, as well as the biggest. The winged helmet refers to Mercury, the god of trade and commerce, and the lion's head is a reference to the powerful and clever Hercules, who was therefore looking over the helmsman's shoulder with him.
Hercules, always looked over the helmsman's shoulder
A helm stock is a carving that was added to the rudder of many ships for decoration. These were ships steered by a tiller, which is an extension piece on the rudder. Helm stocks ranged from flora and fauna to female figures and classical heroes. Although the man on this helm stock may look like someone from the eighteenth century because of his lace collar, it is probably the Greek mythological figure Heracles (or Hercules in Latin). He can be recognised by the lion's skin he wore like armour, with the lion's head as the hood. This helm stock is a rarity: few have survived that are as large and as beautifully executed as this. However, the name of the ship this stock was on is unknown. Given its dimensions, it was probably a large koff or galliot. It is also clear that the helm stock must have been facing forwards, so that the helmsman could always have the reassuring figure of Hercules looking over his shoulder.
This piece was donated by Gottfried Carel Eduard Crone, who collected ship decorations and model ships and wrote a book called Dutch yachts, inland ships, fishing boats and similar small sea-going craft from 1650-1900. In that book, he wrote the following about this helm stock: "The man's head depicted here is 100 cm high. I acquired it in 1920 in Dordrecht, where it had stood for a long time in an attic." Although it is not possible to say for sure, the paint and gilding on the helm stock are probably original.