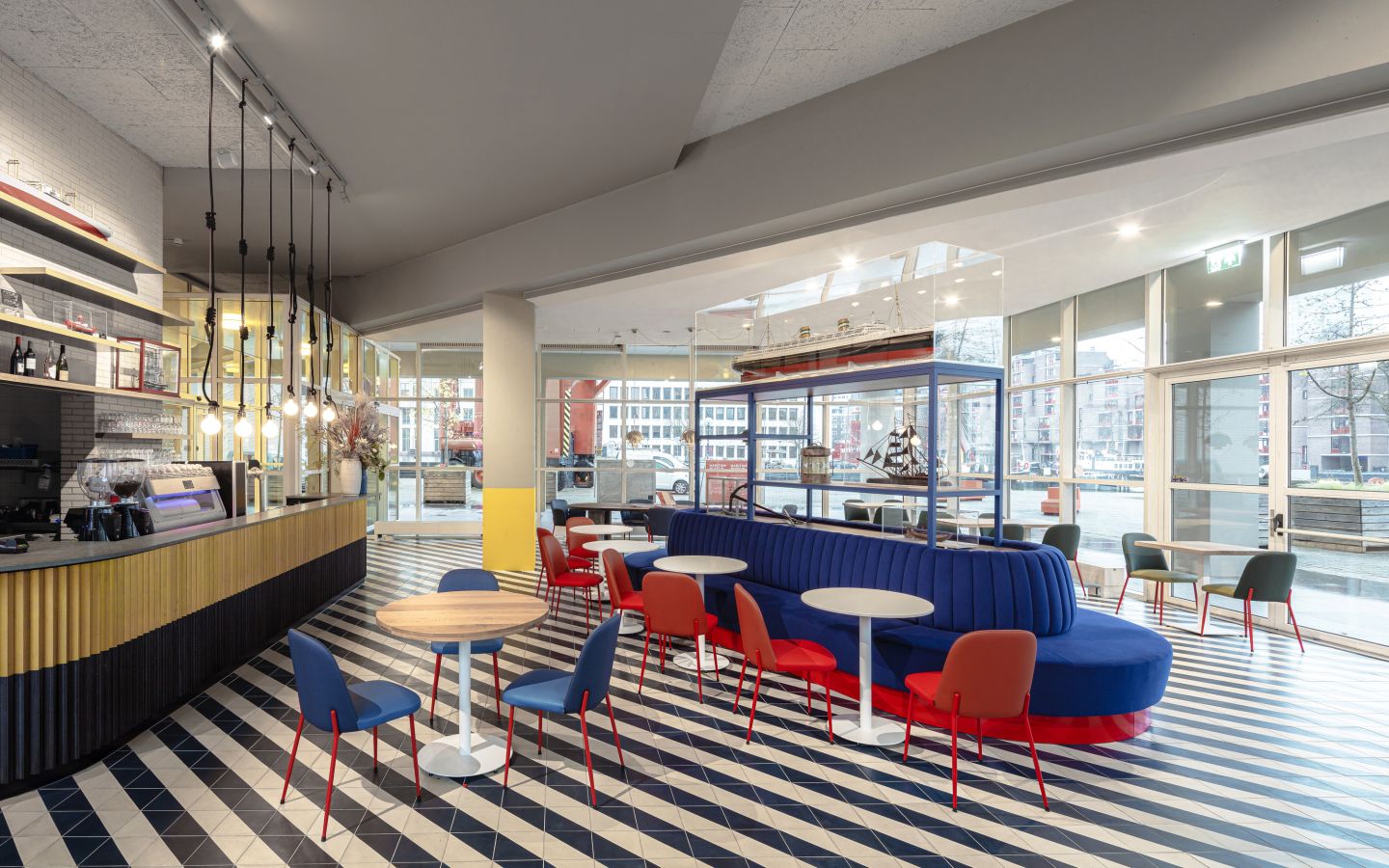 The 'Lage Licht': With a view of the lighthouse
The museum café has a fresh, maritime image and a contemporary interior. The focal point is a model no less than 2.5 metres in length of the vessel Nieuw Amsterdam, a former flagship of the Holland America Line.
There are other model ships that you can admire as well, for example an English lightship, a boatman's boat, a spice ship that carried cloves, and the prototype of a freighter that was intended to be nuclear powered.
Our cuisine is shipshape too
As many dishes as possible are made using locally sourced and sustainable products. You'll be drinking cappuccino by the fair-trade coffee brand Peeze, for instance, or drinking our own beer, the Kaapse Graanzuiger. The cheese is from Rotterdamsche Oude and even the bread, which is served with the soups and salads or can be ordered as a sandwich, is unusual. It's a natural sourdough bread from Zeeland, prepared using purified seawater from the Oosterschelde National Park.

Het museumcafé is ideal for:
Reception / drinks (100 people)
Sit down lunch / diner (50 people)
Under certain conditions, the Lage Licht can be rented exclusively both during and outside museum opening hours (17:00-23:00), including Mondays (excluding school holidays). Please ask about the options.
Walking dinner (70 people)
Dinner (50 people)
Reception (100 people)
WiFi
Background music
Cloakroom
The Lage Licht café is named after the lighthouse in the Maritime Museum Harbour. From the end of the nineteenth century, the 'low light' stood in Hook of Holland – together with another called the Hoge Licht (the 'high light') – guiding ships safely into the port of Rotterdam. The Lage Licht was decommissioned in 1967 and got its current spot in the museum's harbour in the nineties.
Questions or bookings
For more information, call us on +31 (0)10-4029264 or send an e-mail to sales@maritiemmuseum.nl with your question and your contact details.
Contact us