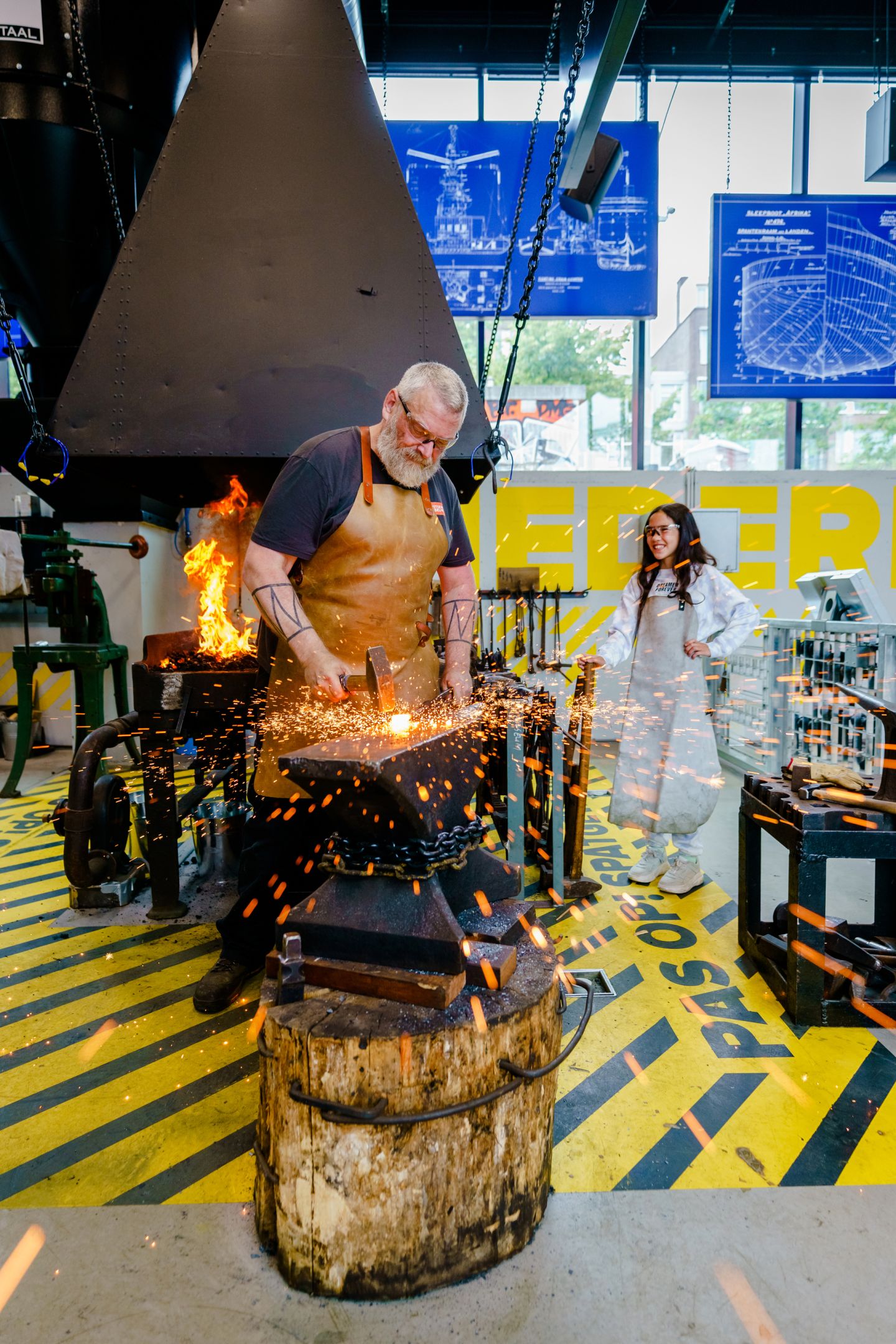 Our smith in action
Discover the smith's craft! See from close up how the smith helps with the maintenance of our fleet. Sparks fly in a spectacular demonstration.
Ships are made of steel, so smiths are important metalworkers. They are still indispensable for work that cannot be done by machines, such as certain maintenance of our museum ships. Our smith knows exactly how to bend or join metal. This is done by making it very hot – up to 1000 degrees! The smith can make rivets, hooks and chains, as he will be happy to show you.
Experience the demonstrations and workshops!
Almost daily, the master smith and his students are working on the maintenance of our sailing collection. Many parts for our historical ships and cranes are no longer for sale and are therefore custom made in the workshops. Come and have a look at the demonstrations or take part in the workshops.
When?
The demonstrations and workshops are depending on the availability of a blacksmith. You'll find the current times in the museum.
Wednesday, Saturday, Sunday | 11:30 am (demonstration), 1:00 pm (workshop), 3:00 pm (workshop)
Tuesday, Thursday, Friday | 11:30 am, 1:00 pm, 3:00 pm (demonstration)
During Dutch school holidays, the demonstrations and workshops are daily.
The workshops are freely accessible, but the demonstrations and workshops by the smith can only be attended with a valid Maritime Museum admission ticket. The barcode on the ticket also lets you play the games on the screens in the workshops and watch the film clips.
When smithing, sparks can fly around. It looks spectacular, but it also means that children can unfortunately not join a workshop if they are wearing short trousers or open shoes.