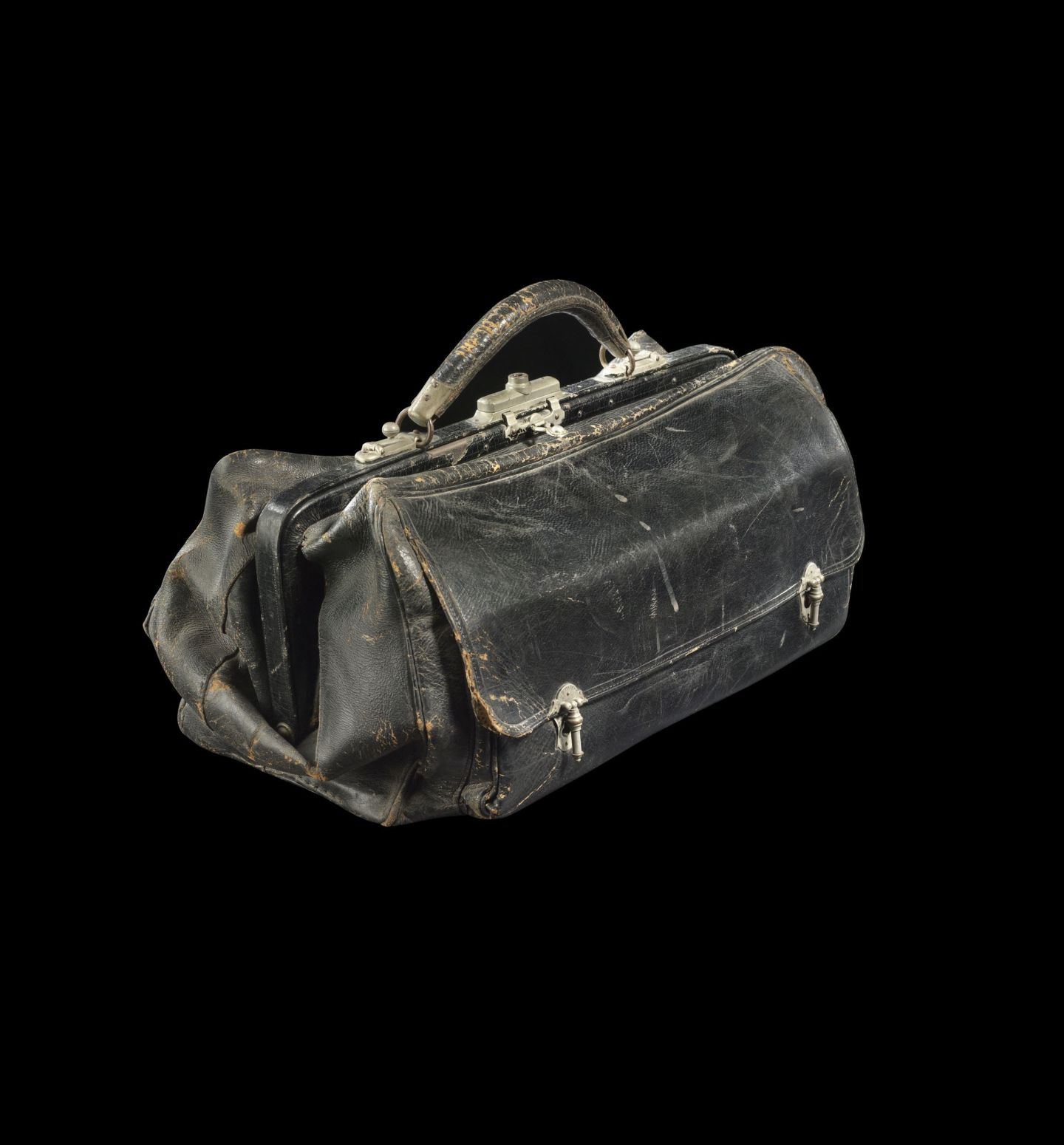 Pieter Caland's bag
What is an ordinary bag like this doing amongst the top exhibits? The value of some objects only becomes apparent if you know the story behind them. This bag, for example, belonged to Pieter Caland, who designed the Nieuwe Waterweg in Rotterdam. Without him, Rotterdam would not be Europe's biggest port now.
Crucially important to the Port of Rotterdam
This bag (1860-70) belonged to the hydraulic engineer Pieter Caland. His first design sketches for the Nieuwe Waterweg that made him famous may well have been kept in it. The Nieuwe Waterweg (New Waterway) was crucially important for the development of Rotterdam as a port and thus of the Netherlands as a maritime nation.
A better waterway to the sea for Rotterdam
Pieter Caland was thirty when he joined a board of enquiry studying how Rotterdam could be given a better waterway to the sea to prevent the port from falling behind its competitors. Because the Maas between Rotterdam and Hoek van Holland was constantly silting up, it was very shallow; this threatened to leave the ever-growing volume of shipping traffic unable to reach the port of Rotterdam. The young Caland's decisive act was a proposal in 1857 that they should discard all the existing plans; he advocated excavating an open waterway that would take the shortest route to the sea. In January 1863, his plans were approved and an act was passed "in the interests of trade and shipping (...) to improve the waterway from Rotterdam to the sea". The work was carried out from 1864 to 1872. Soon after the Nieuwe Waterweg was created, though, it transpired that it was susceptible to silting up too. Despite his idea of extending the barrages out into the sea for up to 2 kilometres to disrupt the North Sea current, Caland failed to keep the silt out of the channel. By 1876, dredging was needed to bring the Nieuwe Waterweg to the required depth, which only finally succeeded in 1885. As this greatly exceeded the budget for the project, Caland was relieved of his duties – at his own request – in 1878.
Nowadays
Ever since, to this day, dredging is still being done to keep the canal at the right depth. Nevertheless, there is nobody today who would dispute how important the Nieuwe Waterweg is for Rotterdam and the Netherlands. There are good reasons why the city has honoured Caland with a statue, as well as a street and metro line being named after him. The Maritime Museum is doing its bit too by exhibiting this bag, which was donated by Caland's grandson in 1962, in its collection.