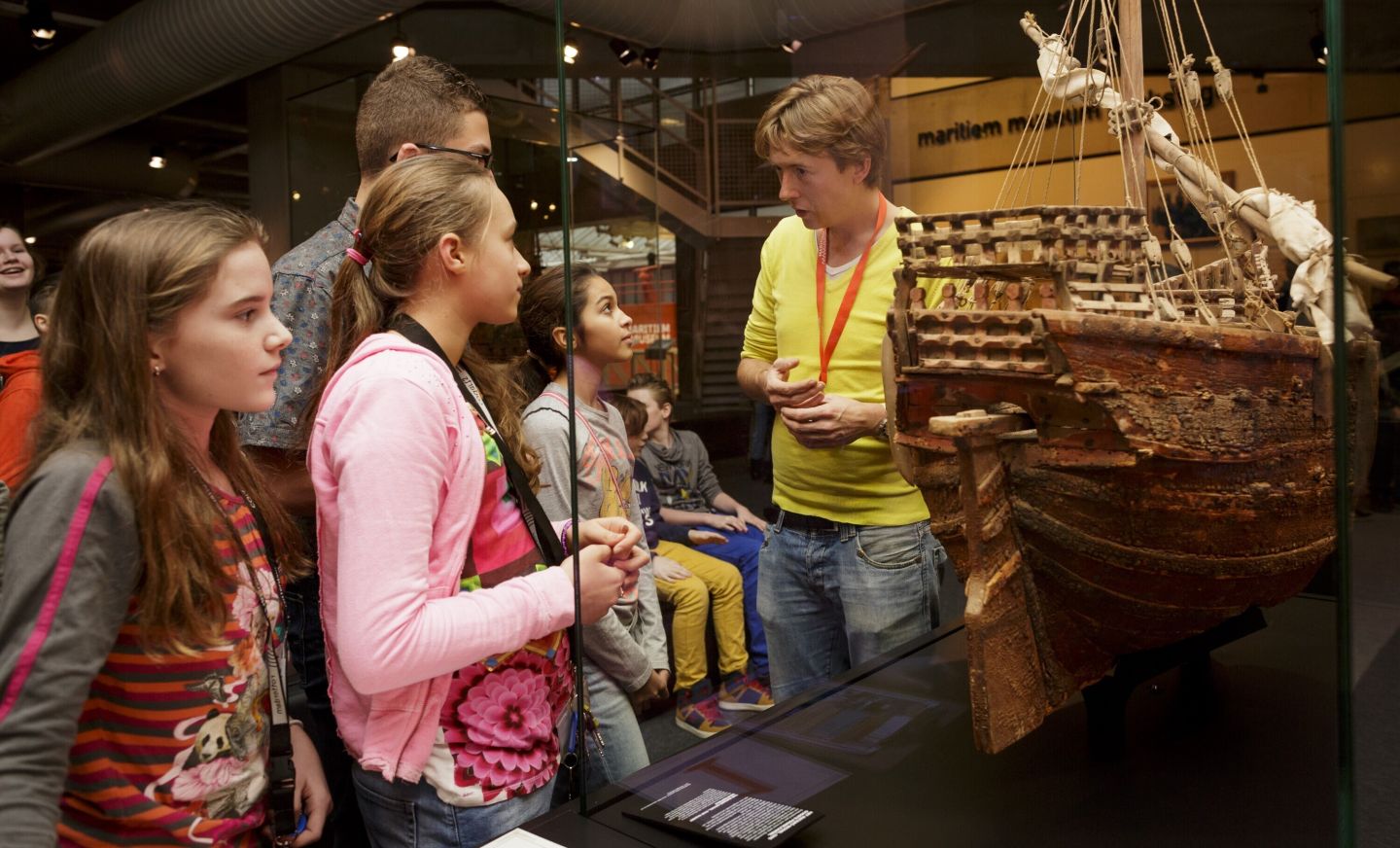 Tour for international schools
Specially for pupils from outside the Netherlands
Specially for pupils (aged 12 to 18) from outside the Netherlands, we offer an interactive guided tour through the Maritime Museum in Dutch, English, French or German. This programme is led by an expert and enthusiastic guide. Also suitable as an exchange program.
Depending on the area of ​​interest of the group, your pupils can discover everything about the VOC, the port of Rotterdam and energy production at sea in three different exhibitions. We take them through six centuries of maritime Dutch history and show the enormous impact of the maritime world of the past, present day and future on daily life in the Netherlands.
Duration: 1 hour.
Price: € 120,- for max. 15 people (including supervisors).
In the Maritime Museum Harbour, pupils visit lighthouse Het Lage Licht, where they watch a film about the port of Rotterdam. Next, they board museum ship Annigje. This Hasselteraak is one of the masterpieces of the Maritime Museum. The ship is more than a hundred years old.
Duration: 1 hour exhibits + 30 min. in the museum harbour.
Price: € 150,- for max. 15 people (including supervisors).
Practical information
Price: € 120,00 / 150,00 per group.
Maximum group size: 15 people (including supervisors).
Maximum of 30 people per booking.
Book now
This is why!
Program in own language.
High quality.
Interactive.
This is what you need to know about the port city of Rotterdam.
Visit to an unique museum harbour.
Discover life on board.
Discover what the Dutch are known for worldwide in the maritime field
Questions or bookings?
For more information, call us on +31 (0)10-4029264 or send an e-mail to sales@maritiemmuseum.nl with your question and your contact details.
Contact us