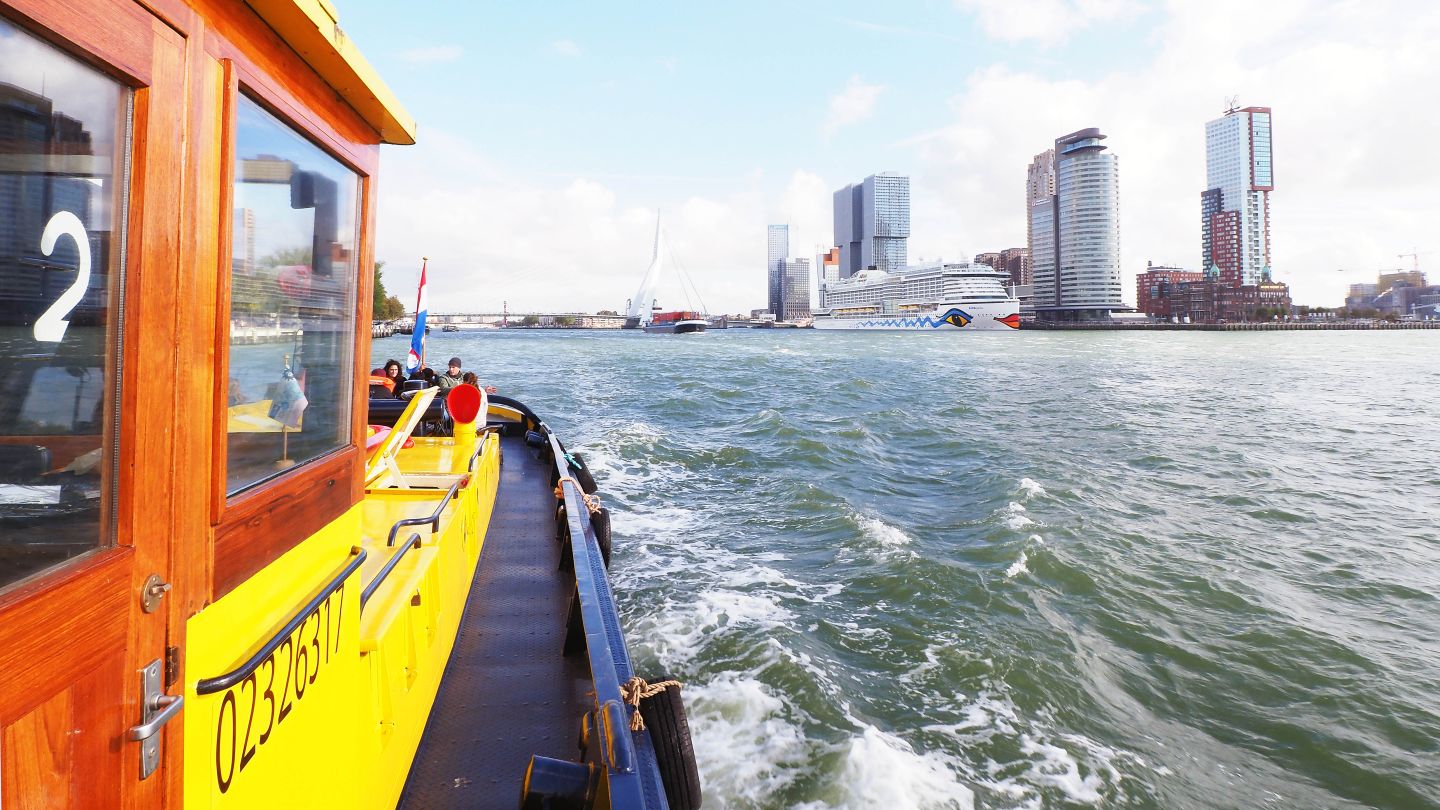 Make a roundtrip through Rotterdam and enjoy our museumharbour
In the summer months we organize unique tours with our museum ships of 1.5 hours through the port of Rotterdam.
Sail along!
In the warm summer months, from June 24 to August 20, we organize cruises from the Maritime Museum Port. On Saturday, Sunday and from 13 July also on Thursday we will take you on a historic cruise through the modern world port of Rotterdam.
Experience the Erasmus Bridge, ss Rotterdam and the Rotterdam skyline from the water and discover the city in a unique way. The crew is happy to tell you about the ship, the history, the technology and the future of these sailing monuments.
In addition to the cruise, you can visit the Maritime Museum Harbour before or after your cruise. Take a look at Hasselter barge the 'Annigje' and learn more about life on board in days gone by. View the craftsmanship of the blacksmith in the forge or the sailor's knots in the 'Gruno' knot boat. Unlock the informative films in the lighthouse and workshops with your ticket and take part in summer activities on the quayside. And of course you can end the day with a delicious drink or an ice cream in Loeve, ice | waffles | coffee.
Practical information
Costs: adults €16.00, children 4 to 15 years €10.00 and children up to 3 years €2.50
A round trip takes about 1.5 hours.
Your ticket also includes access to the Maritime Museum Harbour with historic ships, cranes and activities on the quay and in our workshops.
Make sure you're on the jetty 15 minutes before departure of the ship. That way, the tour can start in time.
Round trip with a group of more than 6 people: Do you want to make a round trip with a group? Please contact the sales department: sales@maritiemmuseum.nl or tel: 003110-4029264.
These cruises are a truly unique maritime experience on a historic ship with a story. These former work ships are not covered, have no plush deck chairs or a restaurant on board. They do have an engine room, some have a steam boiler, a unique history and an enthusiastic and experienced skipper. In the event of a heavy storm or very heavy rain, we will not sail and we will inform you in time. Therefore, always enter your e-mail address and telephone number when ordering your canal cruise ticket.
Our ships
The ships used for the tour are special pieces of history. These depart from the oldest and largest museum harbour in the Netherlands for a beautiful cruise through Rotterdam. Here you can see how the water contributed to its development, both before and after the Second World War.
Sailing schedule
July: Havendienst 2 and Havendienst 20
August: Steam tugs Volharding 1 and Dockyard V
Security
A fun day on the water remains fun when everyone returns safe and sound at the end. That is why we obviously do not sail when there is a heavy storm or very heavy rainfall. If this occurs, we will inform you in time. It is therefore important that you always enter both your e-mail address and your telephone number when you order your ticket. In addition, life jackets are available and compulsory for children.