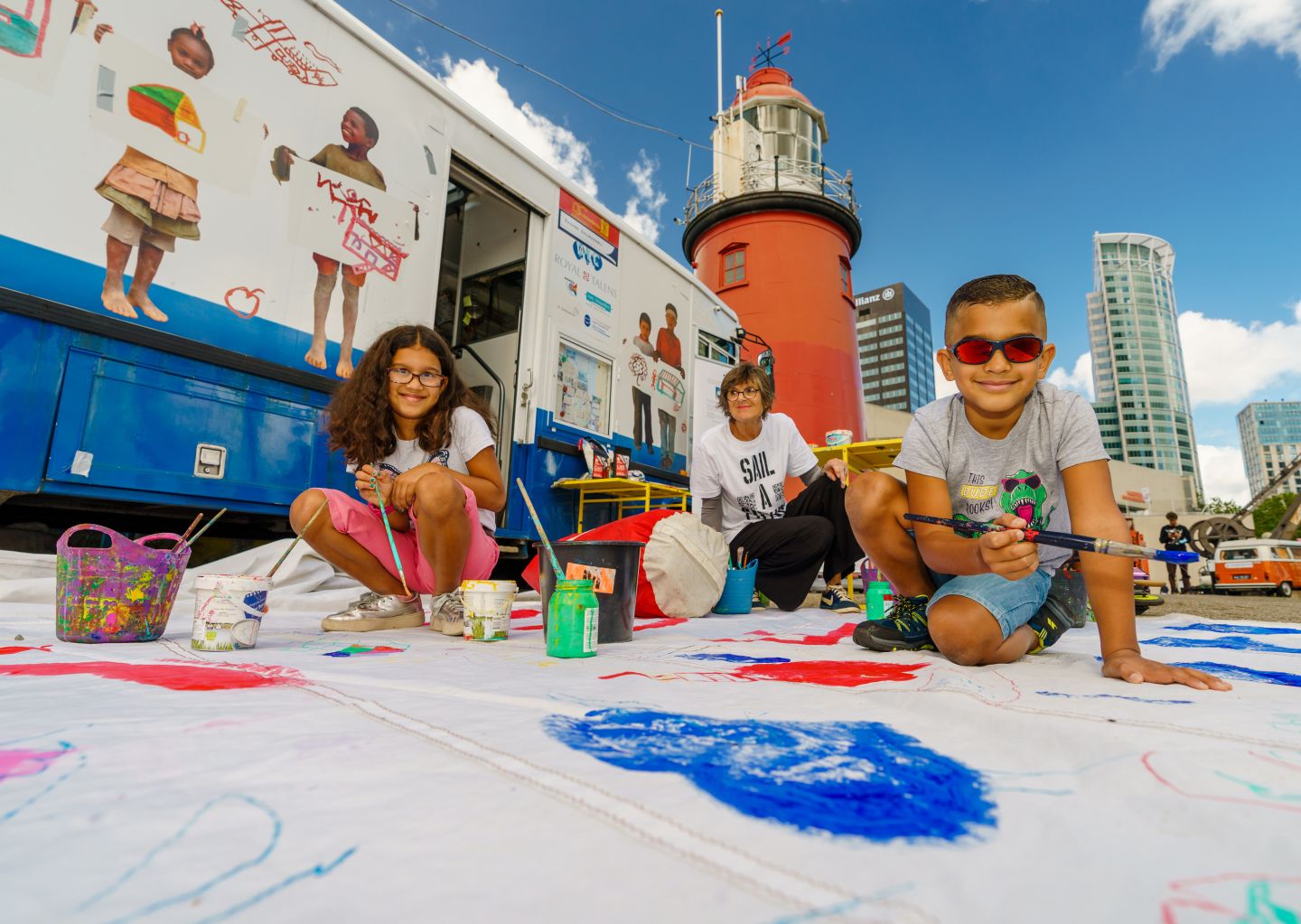 Sail a Future: from old sails to art
Children paint stories full of hope on used sails, inspired by an older generation. That's the 'Sail a Future' project in a nutshell. The Maritime Museum Rotterdam has been working with various organisations since 2020 on sharing these maritime tales throughout Rotterdam.
We unfurl the sails and head out into the neighbourhoods, where the children can get creative under the guidance of a local artist. Meanwhile, they listen to older Rotterdam residents' stories about their maritime or migration past. 
But that's not the end of the story. Afterwards, the children get to go aboard a sailing ship to hoist their sails, during the Maritime Festival. Our skilled volunteers then make unique bags from those sails, making good use of maritime crafts such as sail-making and splicing.
Paint along
As soon as there are painting workshops, we will publish them here
Maritime Festival
The Maritime Festival 2023 will take place from the 30th of August till the 3rd of September 2023.
If you buy a 'Sail a Future' bag at the Maritime Museum Rotterdam, the TELL TALE label will give you more information about the story behind it. The bags are made from old sails from tallships – sails that have travelled many nautical miles. But the artworks on the sails are by Rotterdam children who have painted their dreams for the future on the canvas. The crews of the tallships Morgenster (2020) and Balder (2021) hoisted those dreams high up their masts at the Maritime Festival for all to see.
While painting, the children also drew inspiration from the tales told by older Rotterdam residents, who have seen much of the port and the sea during their lives. Their narratives were given a place on the canvas from which this bag is made. So you can carry those dreams and stories with you in this 'Sail a Future' bag. 
The Sail a Future Foundation uses proceeds from selling the bags for investing in sail-powered cargo shipping. Young organisations like Fair Transport and the EcoClipper are working hard to give a new future to CO2-neutral transport under sail. The Sail a Future Foundation supports that mission.